info@swcountychamber.com
229-776-7718 (phone)
229-776-7719 (fax)
Karen M. Rackley
President / Executive Director
---
Rural Commerce Outreach Initiative
05/07/2014

BOE Monthly Meeting
05/08/2014
07:00 PM - 08:00 PM

Town of Sumner Special Needs Dance
05/09/2014
07:00 PM - 10:00 PM

Worth County Elementary School Field Day
05/09/2014

Town of Sumner Special Needs Pageant
05/10/2014
02:00 PM - 04:00 PM

Worth County Music Extravaganza
05/10/2014
01:00 PM - 07:00 PM

Music Extravaganza
05/10/2014
10:00 AM - 04:00 PM

Worth County High School Band Concert
05/12/2014
07:00 PM - 09:00 PM

Membership Committee Meeting
05/13/2014
11:00 AM - 12:00 PM

WCMS and WCHS Chorus Spring Concert
05/13/2014
07:00 PM - 09:00 PM

Retail/Tourism Meetings
05/15/2014
11:00 AM - 12:00 PM

Black and Gold Spring Game
05/16/2014

City of Sylvester Mayor and Council Meeting
05/19/2014
07:00 PM - 10:00 PM

Agriculture/Farmer's Appreciation Committee
05/20/2014
01:00 PM - 02:00 PM
1 of A Kind
100 Mile Peanut Pickin Yardsale
3 Squares Diner / Paragon Foods
A & S Quality Construction and Plumbing
A Bag to Go
Advantage Realty Partners, LLC
Ag Georgia Farm Credit
Agri-AFC, LLC Sylvester
American Nails
American Sunbelt Auctioneers, Inc
Artesian Holdings
Ashley's Business Solutions, Inc.
Astro Exterminating Service, Inc
Banks Funeral Home
Barbara Odom
Barnyard Creations
Becky Geer
Best Friends Humane Society
Billie and Vickie Young
Birdsong Peanuts
Bloomers Floral Design
Brenda McMillan Brooks Auto Parts
Brownlee-Bozeman Agency
Bryan and Jordan Body and Paint Shop
Bryce Johnson
Calhoun Produce
Camille Taylor, Century 21, Smith, Branch
Charlotte Jolley
City of Poulan
City of Sumner
City of Sylvester
City of Warwick
Coastal Plain CASA, Inc.
Coca-Cola Bottling Co. Consolidated
Colony Bank of Worth
Colquitt Regional Home Care/Worth County
Combined Insurance
ConAgra Foods BSC AP
Conger LP Gas
Country Bouquet & Bridal Registry
Countryside Animal Clinic
Crop Production Services
Cumulus Media
Custom Cut Signs & Graphics
Dairy Queen of Sylvester, Inc
David Register
Destiny Fitness
Dialysis Clinic, Inc
Donna King
Dorothy D. McKellar
Doug Hughes Pest Control
Down Town Sylvester Farmer's Market
Dr. Henry Gordon Davis Jr., MD
Dr. Larry D. Daugherty, DMD, PC
Ed Rynders
Elizabeth Mullis
EMC Engineering
Emerald Garden Center
Event Technical Services, Inc.
Factory Connection, LLC
Farm Commodities, Inc.
Farmers Home Furniture
Fat Boy's Backyard BBQ & More
First Baptist Church
Fletcher - Yearta Jewelers
Ford Insurance Agency, Inc
Fred Dent
Fresco Italiano Ristorante
Futrill Auto Parts, Inc
Gail R. Wiles
Garmon's Tractor & Landscape Service
Georgia Department of Labor
Georgia Peanut Festival
Georgia Pecan Company
Georgia Power Company
Gibbs Pecan & Shelling
Glenn's Corner Pharmacy
Globe Financial Services
Green Oaks Center
Greg Sellars
Gwen Isdell
Hairitage Salon
Hal Carter Construction
Harvest Studio & School of the Arts
HealthPlus Family Practice
Heritage Bank of the South
Herring CPA Group
Highway Deli
Housing Authority of City of Sylvester
Hometown Cleaners
Hudson and NeSmith CPA'S
i luv linens and pearls
J.H. Harvey's Co., LLC
Jay Crowe, Attorney at Law, LLC
Jean Brooks
Jefford's Farms
Jenny's Dress Shop
Jessie's & Salon
Jim Hinton Oil Co. of GA, Inc.
Jimmy Sanders, Inc.
John L Green, Sr.
John McPhaul
Johnson Tax Service
JSA Ag & Lawn, LLC
Jump Start Automotive
Karen McDonald
Kentucky Fried Chicken/ Taco Bell
Kiwanis Club of Sylvester
Langdale Chevrolet
Larry Johnson
Lawhorne Storage
M & J Farms
M & M Sales, LLC
ManPower
Mary Alice Shipp Community Develop. Corp
Maryland Fried Chicken
Matt Medders
Medders Associates Survey, Inc.
Medders Enterprises, Inc.
Medders Irrigation, LLC
Mediacom
Men United Club, Inc.
Milan Food Mart
Miss Georgee's Play-Kare
Mitchell EMC
Mobley Gin Company
Montgomery Promotions, Inc
Morris Farms
Moultrie Technical College
NAPA
Nell Ford
Nethers Old Fashioned Pork Skins, Inc.
Norman Crowe, Jr.
Norman Park Gin
Olam Edible Nuts/Universal Blanchers
Paradise Estates Apartments
Personal Finance
Phoebe Worth Family Medicine
Phoebe Worth Medical Center
Pine Shadows Manor, Inc.
Pinson Memorial United Methodist Church
Plantation Publishing Company, Inc.
Popham Mechanical Contractors, Inc.
Poulan Pecan Co., Inc.
Powell Contract Services LLC
Powell's Refrigeration
Purchasing Alliance Solutions, Inc.
Rachael Deriso Country Financial
Radio Shack Dealer
Relwof Farms Trucking, Inc.
Ridley Monk
Ruth's Cottage / The Pancake House
Sarah McCrary
Scales, Systems & Automation
Security Finance
Shelly McPhaul
Shiba Food Store
Shipp Shape Lawn Service
Short & Paulk Supply Company
Snipes Piggly Wiggly (Tom Tom Foods)
Southern Auto Lock / Montgomery
Southern Express Lube, Inc.
Southern Heritage Woodworks
Southern Woods Plantation, Inc.
Southland Chrysler, Inc.
Southland Transportation, Inc.
Specialty Sales Company
Stuart Pate State Farm Agency
Sumner Egg Festival
Summer Palace
Sumner Peanut Co., Inc.
Sunbelt Ford, Inc.
SunTrust Bank
Superior Machine Works
Sylvester Animal Hospital
Sylvester Banking Company
Sylvester Computer Guy
Sylvester Farmers Market
Sylvester Health Care, Inc.
Sylvester Inn
Sylvester Plaza, LTD Partnership
Sylvester-Worth County Rec Dept
Tabatha DuPriest
The Social Butterfly Event Planning
The Sylvester Local News
Timothy Coley
Total Merchant Services of GA
Tyson Steel Building Products, Inc.
Venice Meeks
Virginia Andrews
Visions of Sylvester
Wal-Mart Stores, Inc.
Walgreens
Warwick HealthCare
Warwick Septic Tank, Inc.
WC Rams Baseball Boosters
WCHS Achievement Boosters
WCHS Band Boosters
WCHS Future Business Leaders of America
Well Services
Wendy Kennedy
William C. Rouse, Contracting
Williams Insurance Agency, Inc.
Woodmen of the World
Worth Air Heating & Cooling, Inc.
Worth County Elementary School
Worth County Extension Service
Worth County Forestry Queens
Worth County Health Department
Worth County High School Worth County Middle School
Worth County Primary School
Worth Finance Corporation
Worth Gin Company, Inc.
Worth Insurance Agency, Inc.
Worthit2u.net
"Ask not what your community can do for you, but WHAT can you do for your community"
Shala M. Juster
Sylvester, GA 31791, Individual Member
---
Happy Mothers Day
Stop and Shop Sylvester Worth County for Mothers Day! We are Worth iT!
---
Nurses and Teachers Appreciation Week

The Sylvester Worth County Chamber would like to extend our appreciation to all Nurses and Teachers in Worth County for their dedication and hard work. THANK YOU for all you do!
---
Worth County Relay for Life
Photo by Kim Gilman
Survivors Dinner and event at the AG Pavillion
The Worth County Relay for Life Chair Terri Giddens and her committee did an awesome job once again this year. We do not have final totals yet but it will be well over $50,000 raised !!
Statewide Opportunities and Events
New Headlines From The Member's Blog

The Member's Blog is a FREE business member benefit!
This is a great place to make announcements or promote new products and services.
Blog post headlines are pulled from the website and linked in this dedicated section.
If you're ready to start using the Member's Blog, contact us today to get started!



Our Chamber Committees In Action
Membership Committee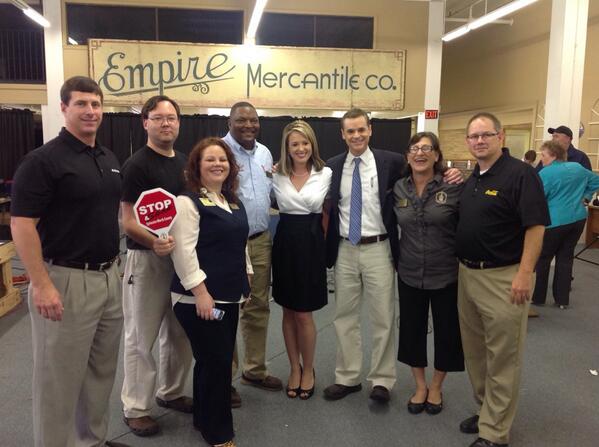 4th Annual Business After Hours: The Sylvester - Worth County Membership Committee at work at this years 4th Annual Chamber Business After Hours. What a great team effort!

Huge thanks to our Membership Committee members - Chris Shipp, Chair - Shipp Shape Lawn Service, Josh Beckstrom- The Sylvester Computer Guy, Tony Bell - Coca Cola, Tabatha Dupriest - WC Tax Commissioner, Mandy Gordon - Phoebe Worth Medical Center, Stuart Pate - State Farm Insurance, Kyle Tomlinson - Snipes Piggly Wiggly, Special thanks to Mr. Jimmy Rouse for the use of the Empire Building, the WALB 60th Annual Road Show Crew, the Downtown Development Authority and City of Sylvester and our staff at the Chamber for all their help.




Click to View All Photos
---
We're Looking For You!
Committees are the heartbeat of the Chamber. Contact us to find out what committees are available, and how you can help with your time and talents!
Chamber Member Community Fundraisers/Events
---
Farmers Market is now open through November. Be sure and visit them on Saturdays at the Train Depot from 8:00 AM to 1:00 PM!
---
---
Peanut Festival Pageant
Download Pageant App (Early Registration Deadline 8/1/14)
Worth County Schools and Partners
The Sylvester-Worth County Chamber of Commerce is a Partner in Education, and We Love Our Schools! Click the Logo to see WCS News, or click the link to find out how to Become A Partner in Education!
---
Interesting Facts And Opportunities For Small Businesses